Actons has yet again been recommended in seven practice areas in the 2022 edition of The Legal 500 UK, the definitive guide to law firms.
On top of the recommendations in seven areas of law, Directors Nic Elliott (Head of our Dispute Resolution & Employment Group) and Annabel Whittaker (Head of Insolvency) retain their titles as 'Next Generation Partners' within the Employment and Insolvency sections, and Wills, trusts and probate Director Bindiya Patel is listed as a 'Rising Star'.  Specialist insolvency lawyer and consultant Nicky Calthrop-Owen retains her place in the Hall of Fame.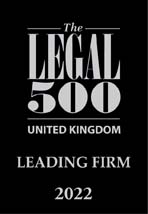 Here are just a few of the comments from this year's Legal 500:
Actons primarily focuses on the SME and owner-managed business market, advising on the sale and acquisition of share capital, equity fund raisings and commercial agreements. Firm chairman Simon Dakin and practice head Peter Flowerday are active in the space; both have substantial experience in the healthcare sector.
"Actons have a long history as an independent firm in Nottingham, yet they possess much of the expertise and experience which would be expected from a larger regional firm."
Work highlights
Advised the Waddington family on the sale of the share capital of P Waddington Ltd.
Advised Bruton Knowles LLP on the acquisition of the share capital of John Amos & Co Ltd.
Advised Peter Cook Ltd on the sale of the share capital of its home care division, Mediline Home Care Ltd, to Premier Care Ltd.
Actons primarily works with individuals and SMEs within the East Midlands area, and also assists companies from outside the region. With expertise in all areas of commercial litigation, the team is particularly active in contract disputes, partnership issues and property-related proceedings. Caroline Bowler, in addition to leading the team, has notable expertise in equine disputes and leverages additional experience in professional negligence litigation to act in claims against veterinary professionals.
"The team responded quickly to my initial inquiry and were quick to understand my issue and provide advice on the best way forward. All interaction was managed effectively given that it was remote."
Work highlights
Acting on behalf of a client in a procurement challenge against a London Borough Council.
Acting on behalf of a Belgian client in relation to enforcing a guarantee provided by an English guarantor in relation to the performance of a contract by a Dutch company.
Acting for two individuals in a complex shareholder dispute.
For insolvency work, Actons is highly active in the East Midlands market. The firm fields multiple experienced and specialist lawyers, who regularly assist with corporate insolvency and bankruptcy annulments. As a dual-qualified solicitor and insolvency practitioner, practice head Annabel Whittaker acts for private individuals, directors and companies on all elements of insolvency mandates. The team also welcomed back Victoria Dunstall in September 2020 following a year lecturing at Nottingham Trent University, increasing the firm's contentious and non-contentious expertise. Nicky Calthrop-Owen took up a consultancy role in April 2021.
"An extremely well-rounded practice offering the full range of services with in-depth knowledge to Insolvency Practitioners"
Work highlights
Advising the joint administrators of a company in the construction industry on their appointment as administrators and matters arising from the wind down of the company.
Assisting a trustee in bankruptcy with investigating and establishing the size and value of an individual's interests in a significant property portfolio.
Advising on various employee benefit trusts litigation proceedings on behalf of and against insolvency practitioners
Actons focuses on advice to employers and acts for clients ranging from small businesses to large national corporations. The 'very responsive and friendly' team has specialisations in advising employers on employment tribunals and absence management. Practice head Nic Elliott advises on strategic issues such as senior exits. Director James Symons is noted for his 'outstanding support in tribunals'.
"Actons provide an excellent personalised service. They are effective because they concentrate on building relationships. They understand that clients need to feel trust so they work to build that, and don't look at every phonecall as a billing opportunity. An all-round excellent firm to deal with."
Work highlights
Advised a national recruitment specialist on matters relating to worker status, holiday pay whilst also managing an expanding employment tribunal caseload.
Expanded the work undertaken for a national client in the retail sector by managing their employment tribunal caseload and continuing to provide advice to the senior leadership team on issues, including those arising from the impact of the covid-19 pandemic.
Provided advice on collective consultation and multi-site redundancies for a national business impacted by the closure of retail during the covid-19 pandemic. The team was also appointed to manage the client's employment tribunal caseload.
The private client department at Actons is headed by Heather Parker, who 'clearly knows her stuff', and acts for individuals, agricultural clients and business owners on the full array of wills, trust and probate work, including asset protection, estate planning and contentious probate issues as well as Court of Protection matters. Bindiya Patel has a focus on acting for local charities and is 'an expert in her field'. 'Extremely helpful' Cara Watson is experienced in working on high value and cross-border estates. Parker, Patel and Watson are all STEP qualified.
"I feel the team take extra care to make their clients feel comfortable, understood and at ease in what can be emotional times."
Work highlights
Advised on estate planning options for a high net-worth couple with multiple assets.
Ongoing advice on a complex multi-jurisdiction estate with investment properties that were believed to be sold, but turned out not to have been.
Administration of a £1.2m trust which the firm has dealt with for over 50 years.
Actons' team, based in Nottingham, represents private landowners, tenants, businesses and charities in a variety of contentious matters. Caroline Bowler leads the team and focuses on disputes relating to proprietary rights, advising on the enforcement of restrictive covenants, adverse possession claims and issues relating to a range of easements including rights to light and rights of way. Associate Daniel Harley assists with landlord and tenant matters.
"This team is uniquely placed in Nottingham and the Midlands, offering first class property advice and litigation services usually associated with the leading London firms. Particular strengths are easement and rights of way claims, boundary and adverse possession work. The litigation and non-contentious/transaction lawyers in the firm provide a brilliant joined up service, providing strength and depth, and a holistic client based solution to the most complex of claims."
Work highlights
Advising a commercial landlord on the termination of a 1954 Act protected lease on ground F in relation to a complex, multi-tenanted, development site.
Advising a private estate on various complex issues relating to historic title, easements and rent charges.
Advising a commercial developer in relation to a breach of a multi-million pound option agreement including enforcement of obligations in relation to co-operation and information sharing.
Based in Nottingham, Actons is experienced in all areas of commercial property, assisting with purchases as well as landlord and tenant issues. Practice head Amanda Gordon is regularly consulted by GP practices looking to purchase or develop surgery premises, and has also developed a specialism in the relationship between property and insolvency issues.
For more information about how we can help you and your business, please contact any member of our team directly, call us on 0115 9 100 200 or click here to send an email.
Posted on September 29, 2021